$5 stocking monogramming
$15 1st xmas onesie
$15 tees and onesies
$15 xmas lovey
$15 prego santa tee
$15 onesie $15 tutu $5 bow
$15 onesie $15 tutu $5 bow
$15 turkey face
$15 fabric turkey
$15 fabric tree and $15 ribbon tree
$15 camo tree
$15 santa face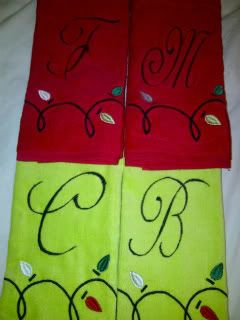 $5 monogramming on any hand towel you drop off
$15 prego xmas tee
$5 stocking monogramming
$15 camo tee and $15 kissing tee
(long sleeves are an extra $5 if you want that)
$5 stocking monogramming
$15 ribbon tree
$5 screen printing
$15 xmas loveys
$15 monogrammed xmas tree
$5 stocking monogramming
$15 fabric turkey
$15 monogrammed santa tee and monogrammed xmas tree
$15 my first thanksgiving
$5 stocking monogramming
$15 my first xmas
Time to order your Christmas tees! Let me know if you want scarves, stockings, pullovers, or throws monogrammed! We are selling super large cascading christmas tree bows as well...$30 for one color, $35 for two colors!all stocking monogramming is just $5.
Order your tees and outfits here:
Order your stocking monogramming here:
--My shipping address to get your items to me or to drop off is:
357 whiterock dr, abilene, tx 79602
(you may leave in the barrel by my front door if dropping off....and ill email u when its ready to be picked back up, out of the barrel!)
If you want to pay cash, there's a locked mailbox on my house for that payment as well!
(Please be sure to add 8.25 % sales tax when leaving cash and NO checks.)
$30 one tone tree bow




$35 two tone tree bow




$30 burlap wreaths